---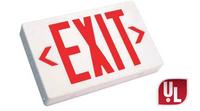 Sale
LED Exit Sign from Battery Hub Inc. UL listed, and assembled in the U.S.A.
ELECTRICAL
Dual 120/277 voltage.
Charge rate/power "ON" LED indicator light and push-to-test switch for mandated code compliance testing.
4.8V long-life, maintenance-free, rechargeable NiCd battery.
Internal solid-state transfer switch automatically connects the internal battery to LED board for minimum 90-minute emergency illumination.
Fully automatic solid-state, two-rate charger initiates battery charging to recharge a discharged battery in 24 hours.
OPTIONS
Ultra-bright, energy-efficient, long-life Red or Green LED
SDT: Self-diagnostic test feature performs monthly, biannually, and annually tests to ensure reliable operation and to meet electrical and life safety codes.
2C: Dual-circuit option on the AC-only unit enables it to be connected to two different (one acting as a back-up to the other) supplies at the same time.
Custom: Signs available with requested 'special' wording.
USA: Substantial transformation assembly in the U.S. complies with "AssembLED in the USA" under the Buy American Act. 
LED EXIT SIGN, EXIT SIGN, EXIT LIGHTING