---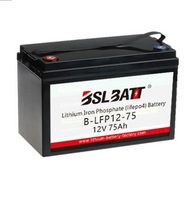 Sale
The advanced B-LFP12-75-LT lithium batteries are ideal for RV's, Boats, EV's and off-grid applications in good-grid environments and offer exceptional reliability and performance at low temperatures. With its unique features, Our wide variety of standard and high-performance batteries ensure we have what you need when you need it. This version is not Bluetooth compatible  
Cover Sealed By Bolts
The B-LFP12-75-LT is developed with a special case, more and more customers told us that the problem of they would like a flexible battery case which could be easier to open and check inside the structure. To follow up the market demands, BSLBATT has developed this new special battery case in Group 31 size. Then when you need to check the inside structure or replace any cells and BMS, you could open the cover by bolts very easily.
Two LCD screen for showing more battery status
The B-LFP12-75-LT is designed with two LCD screens. Normally the lithium battery ABS case only shows voltage or capacity on a small screen. This new product is bringing you more details of the battery status:
Designed Capacity

Voltage

Temperature

Time record

SOC

Battery Status

Current
Protection performance for charging at low temperature
The B-LFP12-75-LT is a 12V 75Ah lithium battery and is part of BSLBATT's Low-Temperature Series. This lithium iron phosphate battery is specially designed with a software BMS. As anyone knows that it's not good to charge a battery below 0°C, it will decrease the cycle life, but most of the regular lithium battery did not protect this situation. BSLBATT's B-LFP12-75-LT Series batteries with a special BMS will automatically cut off and stop charging when the temperature is below 0°C. This design will perfectly protect the battery.
Features & Specifications
Item

Specification

Battery Type

12v 75ah lithium ion battery (LiFePO4)

Nominal Voltage

12.8V

Nominal Capacity

75Ah

Energy

960WH

Dimensions (L x W x H)

260*160*218mm

Weight

23.6 lbs


Case Material

ABS/Iron case

Certifications

CE/ISO/UN38.3/MSDS

Efficiency

99%

Self Discharge

<1% per Month

Series & Parallel Application

max. 4 series or 4 parallel connected application

Peak Discharge Current

150 A (7.5 s ±2.5 s)

BMS Discharge Current Cut-Off

280 A ±50 A (9 ±4 ms)

Operation Temperature Range

-20~60℃

Voltage at end of Discharge

14.4 V

Working Voltage

11.2-14.4V

Discharge Temperature

-4 to 140 ºF (-20 to 60 ºC)

Charge Temperature

32 to 113 ºF (0 to 45 ºC)

Storage Temperature

23 to 95 ºF (-5 to 35 ºC)

Cycle Life

> 3000 cycles

Self-Discharge Rate

Residual capacity: ≤3%/month; ≤15%/years

Reversible capacity: ≤1.5%/month; ≤8%/years

Storage Temperature & Humidity Range

Less than 1 month: -20℃~35℃, 45%RH~75%RH

Less than 3 months: -10℃~35℃, 45%RH~75%RH

Recommended storage environment: 15℃~35℃,45%RH~75%RH
Longer runtime = more recreation time with the B-LFP12-100. This 12V 100Ah deep cycle lithium battery is the perfect replacement for a group 31 AGM, GEL, or lead-acid battery. Weighing in at only 23.6 lbs it's a lightweight alternative to lead-acid and one of our most popular lithium batteries.
BSLBATT lithium batteries provide more energy for high consumption than traditional lead-acid batteries. They also offer ultra-fast charging and discharging, high efficiency, and longer cycle life – plus no maintenance!
Solar Battery

Solar

RV Battery

Marine Battery

Marine

LFP
Lawn Battery
Group 27
Golf Cart
Golf
B-LFP12-75-LT
12v
12 volt
WARRANTY: 5 YEARS – 3 Years Free Replacement, 4th year 75%, and 5th year 50% Pro-rated and BSLBATT Lithium batteries have the lowest failure rate on the market.