---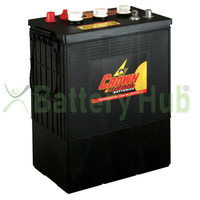 Sale
Crown Group 903, CR-390 6v 390Ah Commercial Flooded-Cell Deep Cycle Golf Cart Battery.
The 903/CR-390 Battery is designed for use in golf and electric vehicle applications and will typically deliver in excess of 20,000 ampere-hours before reaching the end of its useful life.
The 903/CR-390 is compatible with applications like Golf Carts, Marine, RV, Backup Power, and Off-Grid PV Systems. Crown's 903/CR-390's are standard BCI Group 903 size flooded-cell batteries.
Exclusive C-Force™ Active Mass for increased charge acceptance and discharge times
Rugged, SolidCast™ plates that result in longer battery life and work (or play!) as hard as you do
PosiWrap™ plate separators and other proprietary Crown components cut
maintenance, add peace of mind
Golf Cart
Golf
Crown
Floor Scrubber
Deep Cycle
CR-390
903
6v
390Ah
Specifications
Volts

6v

BCI Group Number

903

Model Number

CR-390

Length in. (mm)

12.38" (314mm)

Width in. (mm)

7.19" (183mm)

Terminal Height in. (mm)

16.13" (410mm)

Weight lbs (kg)

115lbs (52.2kg)

Terminal Type

Standard

NOMINAL CAPACITY
20 Hr Rate

390Ah

5 Hr Rate

310Ah

Discharge Capacity

215 / 75A
Charging
Crown Battery Manufacturing Company specifies the following standard battery charge profile for the CR-390 deep cycle battery when used in an electric vehicle service:

Phase 1: Constant Current (I1)
I1 = highest amperage available < 90 amps

Phase 1: Constant Current (I1)
I1 = minimum amperage available > 40 amps
Normal transition to Phase 2 at 2.37 Volts Per Cell.
Safety transition to END OF CHARGE of dV / dt <0V / 1 hr, dt = 1 hr.
(NEGATIVE SLOPE).
Timeout for Phase 1 = 10 hours.

Phase 2: Constant Voltage
(U2) U2 = 2.37 VPC
Normal Transition to Phase 3 at I2 = 12.0 amps or approximate.
Safety transition to END OF CHARGE of l dI/dt l < 0.4 amp / 1 hr, dt = 1 hr.
Phase 3: Constant Current
(I3) I3 = 12.0 amps or approximate.
Normal transition to END OF CHARGE at 115 -118% of AH returned.
PLEASE CONTACT CROWN BATTERY MANUFACTURING COMPANY TO ADVISE THE SPECIFIC CHARGE TERMINATION METHOD USED.
Timeout for charging phases 1 - 3 at 16 hours.
Temperature compensation coefficient = +/- 3 mV / °C.
Recommended Equalization Charge: Every seven (7) days. 4 additional hours at normal finish rate of 12.0 amps for 4 hours.
Safety transition to END OF CHARGE at a maximum voltage of 2.7 VPC.
Golf & E.V. Batteries The world's leading Golf & Turf professionals won't send their fleets onto the course with a lesser battery. That's why they only choose Crown. Powerful. Dependable. Low maintenance and extremely reliable. So why walk with the amateurs when you can drive like a Pro? Crown Battery. The true power in golf.