---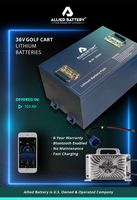 Sale
Allied "Commercial" 36V Lithium Batteries
Allied Lithium Batteries are the only true "Commercial" lithium battery packs for golf carts. They are the same size as one of your current lead-acid batteries which allow you to convert your vehicle from lead-acid to lithium in less than 30 minutes. Reduce weight by as much as 300lbs, or a "Cousin Jimmy," as Lithium batteries weigh approx. 1/5th a lead-acid battery. You can literally toss these around like a toddler, they only weigh 29lbs! (Note, toddler tossing is a specialty developed by great Dad's everywhere-attempt at your own risk).
This versatile solution allows users to convert 36V lead-acid setups, most commonly 6 x 6V batteries, to lithium with Allied 36V 105AH Batteries.
Choose from 2 x 36V 105AH (210Ah) all the way up to 6 x 36V 105Ah (630Ah) lithium batteries for ridiculous range. 
Simply remove the lead-acid batteries and replace with the Allied Lithium Batteries, attach cables in parallel, secure holding bracket and the install is complete.
---
The Allied "Commercial" line has a Bluetooth enabled BMS that communicates directly with the Allied App. 

Available for Apple and Android phones and will automatically setup with battery.
BLUETOOTH ENALBED
Remaining AH and Voltage

Remaining Discharge Time

Remaining Charge Time Current

Amp Draw Current Cell

Temperature Voltage of Individual Cells

Lifetime Power Cycles Turn

Charger On / Off Turn Battery

Pack On / Off

Safety Protection Dashboard
ALLIED "COMMERCIAL" 72V BATTERY FEATURES
BLUETOOTH ENALBED
Download the free Allied Battery app to manage the health, history and current status of your battery.
LONG-TERM STORAGE 
Great for snowbirds who want to store the battery for up to a year.

Simply press the power button before leaving. Allied Battery will automaticity disconnect from all accessories and go into storage mode.
WORKS WITH UPGRADED MOTORS AND CONTROLLERS
From fleet to performance, Allied has the right battery to run your golf cart or ATV vehicle perfectly.
WHY SWITCH FROM LEAD-ACID?
1/2 THE WEIGHT

3x RUN TIME

3500+ LIFE CYCLES

ZERO MAINTENANCE

8 YEAR WARRANTY
CERTIFIED SAFE
Tested and certified for all major safety approvals.
PROTECT YOUR INVESTMENT
Rugged design is built to last with warranty to match.
U.S. OWNED & OPERATED
U.S. based company dedicated to providing fully supported lithium energy solutions.
DASH MOUNTED METER
Provides real time voltage, amps and percentage of remaining charge.
36V TO 12V CONVERTER
Power 12V accessories with a waterproof converter.
WATERPROOF CHARGER
15A waterproof charger with 36V OEM plug attachment.
Tested and Safe
Allied Battery has over 30 years of experience in Lithium and safety. LifePO4 (Lithium Iron Phosphate) is one of the safest battery chemistry available.
Our BMS (battery management system) in each battery will detect any problems with the performance of the battery and shut down any cells not functioning properly. The BMS will also protect the batteries from any over-charging or undercharging of the batteries.
FedEx and UPS have approved our product for air and ground shipping.
Click here to view a full list of the Allied Battery Safety Certifications Safety Certifications
Golf Cart

UTV

Allied Lithium 

105Ah

105 Amp Hour

36V

36 Volt